Looking for qualified & insured Commercial Electricians in Chelmsford?
Haley Electrical are the local experts and are fully insured Commercial Electrical Engineers. Call us for a free quote or advice. No call out charges. 
Call now to speak with a qualified Electrician
Speak with an Electrician immediately
Fill out the form below and one of our expert electricians will be in touch with you shortly or call us directly on 07920 047 093
Why choose Haley Electrical?
Wondering how Haley Electrical stands out from the rest? Our team of expert commercial electrical contractors in Chelmsford work with every business type and are committed to the quality of workmanship across all areas. Our strong reputation is built on quality, expert skills and finding the best solutions to help any business owner whilst maintaining compliance with current UK standards.
Working on a variety of commercial projects, we are highly recommended for our unparalleled knowledge of expert electrical skills combined with the speed with which we work. We also work with Industrial, Construction and Domestic clients.
Enhanced safety standards
Commercial electrical work requires an incredibly high level of expertise, regardless of the industry you're operating in. To keep a business running safely, we understand that you may require high-quality work to be carried out as quickly as possible to prevent any potential safety issues. This is where our commercial electricians Essex team excels ahead of our competitors.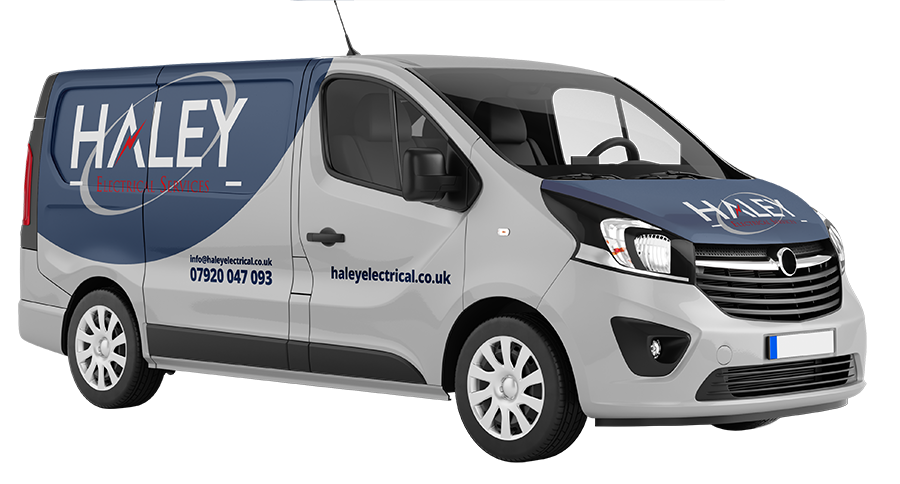 Book your FREE Commercial Electrical Callout
Whether you need to book a commercial electrician in a hurry, or for a planned upcoming project, Haley Electrical are ready to assist. Gain access to our highly qualified team by contacting us on:
Call us today and speak directly to a trained, professional electrician, or request a callback.
Our industry accreditations
Commercial Electrical services in Chelmsford, Essex
Our commercial electricians in Essex and Herts approach each project to find a tailor made bespoke solution suited to the business. We work with:
What services do we offer?
We offer free expert impartial advice so that our clients can make an informed decision on all the options available. Some of the services available to our clients include: